What seemed to have started out as somewhat of a cult following has quickly grown into a mainstream sport. Spikeball teams and players are gaining fame as the popularity of the sport increases. Additionally, rewarding players with elite status and corporate sponsorship has brought fame and fan love to some of the most talented players. 
Though a few of the most popular Spikeball teams are from the US, there are some popular and famous players from across the EU. The most popular team globally is the Cisek/Showalter duo. Willem Bardyn of Denmark and Lukas Schmandra from Germany are other internationally famous faces. 
The most popular spikeball teams quite often are top-ranked. Most play in the Pro division and are Elite players with corporate sponsorship perks.  
Are There Any Professional Spikeball Teams?
Even though the COVID-19 pandemic led to a suspension of both the US Spikeball National Championships and the Roundnet World Championships, 2021 has shown lots of promise. There has been lots of play in the Grand Slam and successful premier teams will advance to the Pro Division.
The 2021 Pro Division will feature 16 teams. In the past, Pro teams qualified by being top two in the regional championships. The system will remain largely the same.  
Aside from Pro division teams, some teams attain Elite status. For example, being a Spikeball Elite means you're sponsored by the Spikeball Inc brand. Perks of being a Spikeball Elite include:
The brand pays for your game appearances.
You enjoy stardom status and fame with recognition and respect.
You access lucrative deals such as  merchandise
Travel funds for travel to SRA events. 
What Are the Most Popular Spikeball Teams?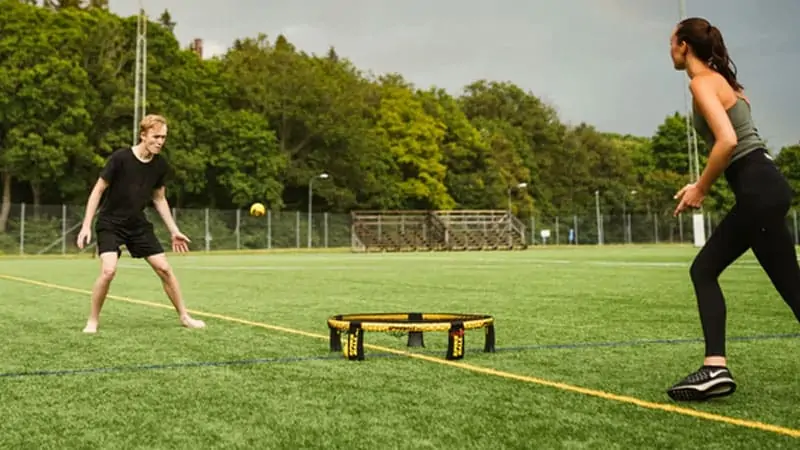 With the US Spikeball Roundnet National Championship, the ESPN SummerSpike, and the Kentucky Cashout tournaments being the most popular Spikeball events, it's no wonder that the most famous and popular teams and players are American. However, there is a growing interest in other parts of the world. According to a study by California State University, the fan base keeps growing and many are following their favorite teams and leagues on social media and through apps. 
To highlight some of the most popular Spikeball teams and individuals, we will be looking at crowd appeal, elite position, and sport rankings. Using these criteria, the most popular teams in the Spikeball world are: 
Cisek/Showalter
The duo of Tyler Cisek from Amity, NY and Peter Jon Showalter from Columbus, OH have dominated the game for some time now. The two have consistently topped sport rankings and captured several trophies and championships. 
The 2019 National Champions and winners of the Chicago Grand Slam are the pair to beat. Fans love Showalter's serves which always seem to get their opponents flatfooted. 
Lukas Schmandra
He's the founder of Roundnet Germany and one of the best players in the world. He is widely popular in Germany and the EU in general and has a loyal online fan base in and out of the EU. 
Boysterous
Preston Bies from Santa Barbara, CA and Caleb Heck from Lancaster, PA are the top rivals of team Cisek/Showalter. Boysterous is the team that everyone thinks can defeat Cisek/Showalter and in fact has beaten them once. Coming in at number 2 at the 2019 Nationals, they promise an exciting rivalry against the defending champions. 
Trippy Lizard
The duo of Andre Card from Chattanooga, TN and Clark Marshall from Knoxville, TN. Make for a formidable team. They are fast and work well together on the pitch. They are social and charismatic off the pitch. Trippy Lizard enjoys a wide fan base in and outside the US. They were 5th in the 2019 Nationals and are frontrunners for the 2021 event. 
Willem Bardyn
He is the top ranked player in Belgium in 2021. He'll be the top player to watch in the upcoming World Championships organized by the International Roundnet Federation (IRF).
He has consistently shown good form and the crowds love his style of play. He has a keen eye and a deft hand. He's probably the one international player the US team is most wary of. 
Venom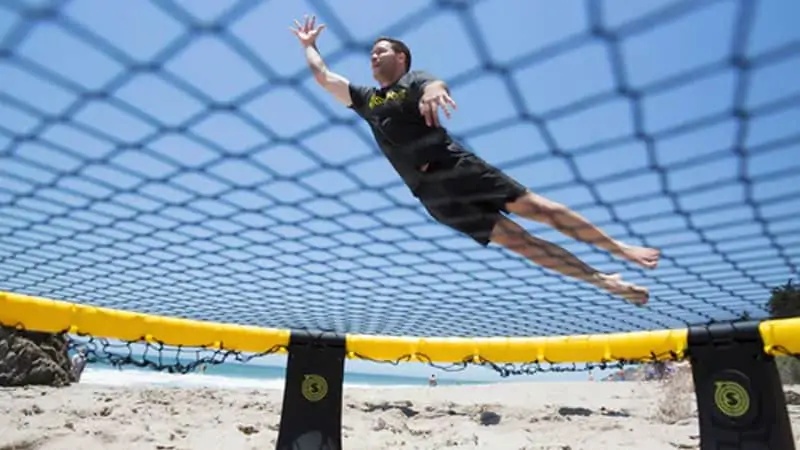 Dylan Fogart and Matt Bohnen both from Chicago, IL. Came in 3rd at the 2019 Midwest regionals after they lost to ClubSpike Worldwide. They enjoy a lively home fan base and always look confident in play. 
Spikers Synonymous
The Taylor Church and Tyler Stokes team from Provo, UT are an exciting pair to watch. The skillful duo shows excellent synergy between them and a determination to always give their best. 
Mammal
Comprising Kenny Ortega from San Diego, CA and Josh Fragiacomo from Ventura, CA, Mammal are exciting to watch and could be legendary players if they show consistent results.  
They could rank higher but Kenny's injury and a few dramatic losses has them ranking lower. In terms of popularity, fans love this pair for their flair and passion. 
Toast
Travis Core, from Cumming, GA and Coleman Epperson from Knoxville, TN are a tried and tested team with impressive results. In 2019, they came in 3rd at the Nationals, 1st at the Dallas Tour Stop, 3rd at the Nashville Grand Slam, and 3rd at the Santa Monica Grand Slam. 
Anchored LI
The Ryan Fitzgerald and Anthony Alvino team from Long Island, NY have been inconsistent in their wins though they play well and have had some magnificent wins under their belt. 
In the past they have placed 10th at nationals and 1st at the East regionals.
Do Fans Know More About Pro Players or Pro Teams?
Even though Spikeball Roundnet isn't as widely popular as football or basketball, the top teams enjoy a dedicated fanbase. Upcoming players and game enthusiasts know their icons and follow their favorite teams with passion. 
Fans have more access to their sports heroes and can meet them more frequently and closely at events. Additionally, Pro players and teams are more approachable online on social media and through their websites. 
Being a game with a relatively small fan base and with less information, fans tend to follow the best players advice and recommendations closely. For example, training camps and special merchandise are often sold out on the public recommendation of a pro player.